At Sorted, we don't need an excuse to go shopping. Mystery or otherwise.
Nowadays, customers demand immediate attention. They like information at their fingertips, particularly when it comes to delivery information. And they'd much prefer to engage with a live chat bot or agent than make time consuming phone calls to slow call centres.
What's more, these 'where is my order' — or WISMO calls as they are known — are incredibly costly for retailers. Not only are they frustrating for your customer service team, they leave customers feeling inconvenienced and undervalued.
"Live Chat is an elegant means to autonomously servicing WISMO contacts. To be fully automated with order tracking it requires delivery consignment state data, ready to be surfaced and at a moment's notice whenever the customer desires."
Bright Masih, National Sales Manager, Sorted Group
Despite this, plenty of retail businesses are slow to adopt a live communication strategy. This a missed opportunity when it comes to reducing costs, boosting customer engagement and enhancing brand equity.
So, we shopped around to find out who has adopted live chat and why. Here are three online retail heros winning at live chat communication:
IWOOT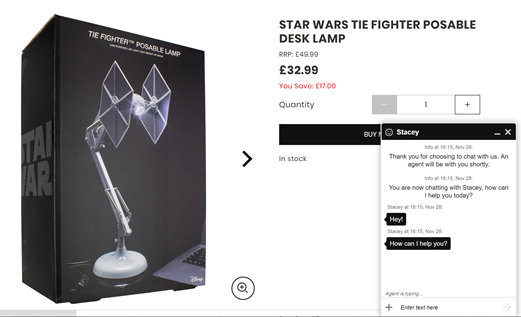 This gift retailer has a bright, slick interface and a broad range of stocking filler-style products, ideal for the peak shopping season. But with peak shopping season can come delayed processing and slow product dispatch.
Pros: When IWOOT customers want visibility on their orders, they can speak directly to the live chatbot on the website who will happily provide answers to their questions. The bot is responsive and covers most aspects of the buyer journey from payment processing to delivery information.
Cons: The only downside to their current automated functionality is that it only goes so far. The chatbot appears to produce generic, pre-programmed responses to questions about delayed dispatch, rather than addressing and tracking specific orders or deliveries.
SpaceNK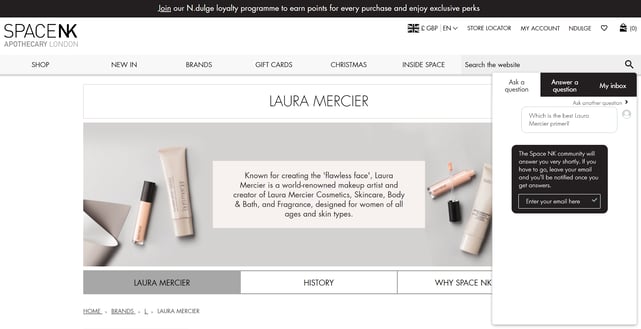 Buying new makeup online can be a hair-raising experience.
First of all, shades can look entirely different on screen than IRL. And with any beauty product, it can be difficult to know the quality without trying it first.
SpaceNK has gone to great lengths to improve this experience, with a live chat service that allows customers to get real-time advice from beauty experts. The primary goal? Help consumers make better product choices and reduce product returns.
Pros: Communication and answers from this service come from the 'SpaceNK community'. This means you're talking to humans not bots, getting real advice from genuine people. This is great for the consumer, but perhaps more intensive for the retailer.
Cons: This chat service takes patience! We waited a very long time for an answer to our question. In reality, most shoppers will have moved on or become distracted in this time. However, it does have a 'get this answer in your inbox' feature to keep the conversation going after the shopper runs out of time. And the questions are entirely pre-purchase focused, rather than last mile support.
Argos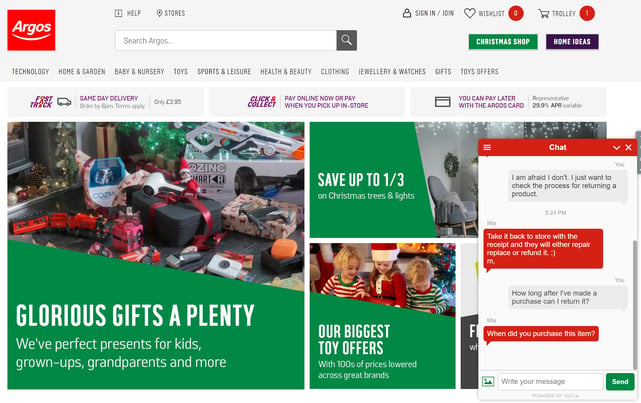 Ok, Argos has been around for quite a while. But last year the multichannel retailer was ranked top in Practicology's Omnichannel Customer Experience Report. According to the report, Argos displays extensive support for shoppers who use multiple touchpoints whilst making a purchase, and this is a lot to do with its live chat feature.
The Argos chat function is powered by predictive analysis. It uses data-driven insights to assess which customers require more help, when to engage and what to offer them. But the function is not automated, it uses 'real humans' to assist customers with their product enquiries, returns questions and to track their orders, all of which minimises the cost savings for Argos.
Pros: The chat is friendly, informative and responsive, and covers a range of customer queries and can trace specific Argos orders, effectively reducing WISMO calls.
Cons: It's not easy to find the live chat function on the Argos website. This makes it feel like a last ditch attempt to solve customers' issues. And because there are real people on the other end, there can be a bit of a wait for the next available agent.
"The reality is that consumers sometimes don't want to talk to contact centre agents, or waste time chasing down their orders by calling in, they just want answers. It serves only to decrease satisfaction and erode brand advocacy. Instead they expect technology to provide convenience centred solutions, so automating live chat with delivery tracking information is a win for both consumer and the retailer."
Bright Masih, National Sales Manager, Sorted Group
Whilst some retailers are reaping the benefits, it seems there's still huge untapped potential in the live chat space. And many of the true cost saving features like automated order tracking aren't yet being deployed by retailers. And the secret? This smart tech is out there and available, it just needs taking advantage of.
SortedREACT, for example, aggregates delivery data from delivery carriers, augments it with location data and carrier operation patterns, and provides actionable delivery insights to retailers. These real-time insights can then be linked to an API with a self-service live chat function.
So, maybe it's time to take your live chat to the next level? By giving your customers a chance to self-serve their delivery information you stand to save costly and time-consuming customer service queries and minimise last mile complaints.