As we brave the pandemic together, enter peak and prep for the unknown in 2021, we've sat down with seven CX experts (read: retail nerds) to crowdsource some behind-the-scenes insight. We gathered tips, intel and honest opinions from Hermes, DPD, musicMagpie, Retail Week, Cygnia Logistics, Wincanton and, of course, the brilliant Julia Dietz from Party Delights.
The full, access-all-areas guide can be downloaded here - but this is a sneaky peek at some of the things we discussed with Julia...
Julia says, throughout 2020 and into 2021, retailers can drill down to three, uniform things; customers want speed, ease and visibility with every ecommerce transaction. And, with very little time or resource for hesitation, they're the pillars on which the industry can confidently build better customer service.
The biggest change for CX this year? Retailers are listening now.
"It always felt like customers were pulling everybody along with the things that they wanted," says Julia, who notes that retailers have been chasing their own tails when it comes to direction for innovation.
In the past, brands took customer behaviour signals and worked them into project or transformation plans – but 'data drowning' and conflicting cues often meant that there were too many leads to follow or problems to solve all at once.
The pandemic has unarguably revealed what customers truly want, and retailers now need to listen.
Now, retailers have the creative licence to rip up the rule book and get creative with how they do it. Julia stresses that there's never been a better time to experiment, learn quickly and find new ways of doing things.
Meeting customer expectations really is an all-year-round job, even before the pandemic, especially when the peak of peak is in October...
For Julia and the Party Delights team, Halloween is usually one of (if not the) busiest date in the calendar – with up to 25% volume uplift. As usual, everyone needs to be at optimum speed, accuracy and efficiency; and it's very much all hands on deck. However, this year, there are significantly fewer hands on deck...
Watch the video to find out how Party Delights are managing traffic this Halloween (and how they're hoping to keep it scare-free).
In the full interview...
The people power behind moving all Party Delights European distribution into a German hub in a matter of days.
How customers are spending less, but buying more often – and what that means for fulfilment.
How customer expectations can be managed, and delivery promise protected, by agile order cut-offs and delivery options.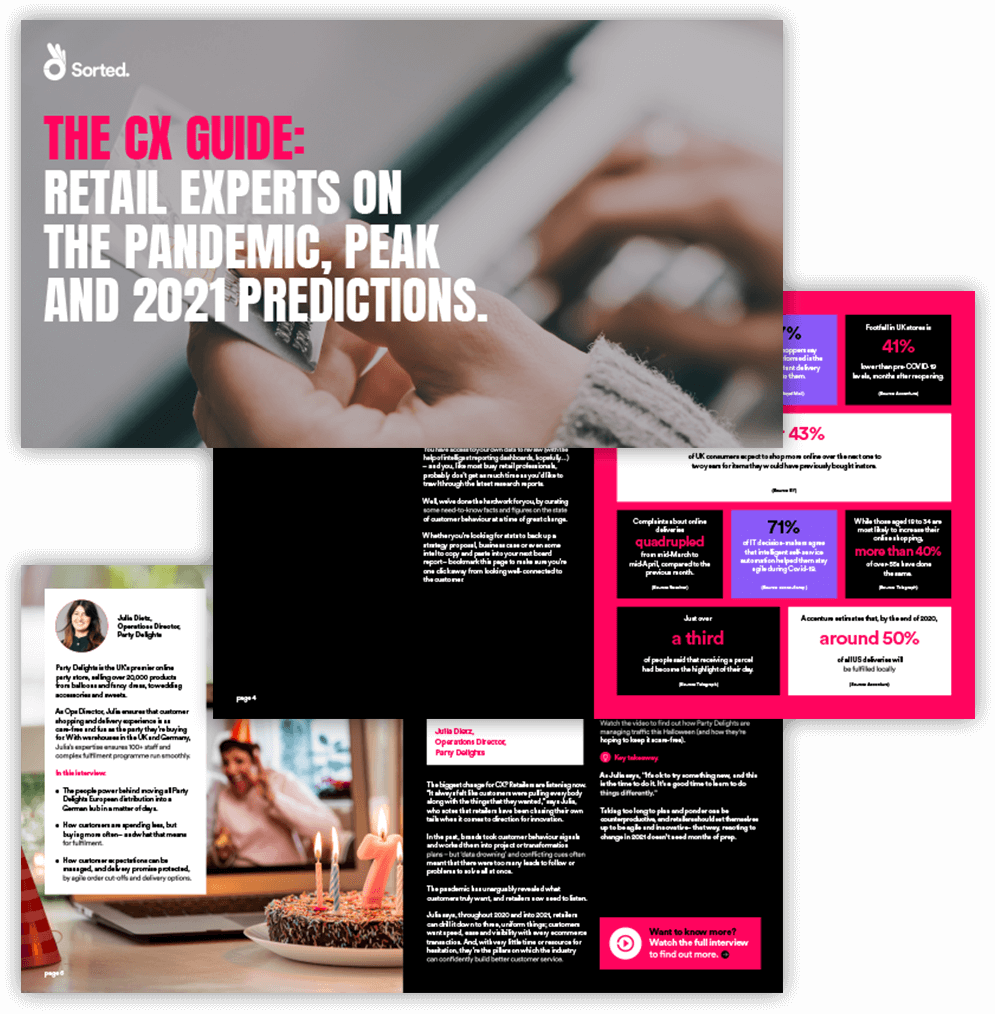 Get the full interview in just two clicks.
The CX Guide:
Retail experts on the pandemic, peak and 2021 predictions.
In the midst of a year like no other, we turned to our expert network and asked them to be open and brutally honest about their reflections and findings on the new meaning of 'customer expectation' and their predictions on what is peaking over the horizon.
Watch the videos, read the research and be better at boosting CX in peak 2020 and beyond...