It has never been more important to pool knowledge from peers, validate the challenges we're facing and stimulate new, innovative ideas.
Peak has lasted nearly 12 months already, but the biggest test is yet to come. Golden Quarter 2020 is arriving. And it's adding even more orders, parcels and uncertainty into the mix.
James Knowles and the Retail Week team specialise in having a finger on the pulse of the retail industry; so we are really excited to have James as one of the experts in our new interview series. Alongside the insight and analysis from James, we chatted to Hermes, DPD, musicMagpie, Party Delights, Wincanton and more... all about the state of CX throughout the pandemic, peak 2020 and what that means for strategy in 2021.
The full, access-all-areas guide can be downloaded here - but this is a sneaky peek at some of the things we discussed with James...
With a whole host of new customers to impress, retailers have one shot to care for and keep the shoppers who are new to ecommerce.

"Swathes of customers who previously didn't shop online, who preferred stores, have all become digitally literate. Because they had to be." Says James, who suggests that these ecommerce converts won't be rushing back to their old ways. "There will still be a greater number of consumers who are going to want to reduce time spent in physical stores."
And it's true. There are thousands of new online shoppers, who will be sticky to the brands that give them the best customer experience. So what has the pandemic meant for store space?

For the past five years or so, experiential retail has been one of the most expensive buzzwords in the industry. From concept stores, to bricks and mortar 'show rooms', to the likes of Klarna, with their ground-breaking pop-ups. Now there is less emphasis on physical store space, and more emphasis on controlled capacity, and getting customers in and out as quickly as possible.
This was one of the many interesting points James made, during our chat. And it's interesting to hear how this may impact in-store concessions or events.

Are we losing the built-in coffee shop, as the high street moves away from being the ritualistic social venue? Have we seen an end to the champagne launch event or the in-store yoga classes?

"I think consumers will still want retailers who provide an experience," says James. "They still want to shop with retailers that provide a kind of branded world that you can step into."
The rethinking and repurposing of the store space isn't, in itself, a new thing. For years now, innovative retailers have been considering how they respond to the steady, but drastic, shift towards ecommerce. Customers have been moving online for years, and the pandemic has been a catalyst for change.

Destination shopping has been one route. But now, the bells and whistles don't matter. There are hundreds of lifeless store units, housing untapped stock and shop floor staff with fewer customers to serve. A simple pivot to a ship from store model could very easily save both the retailer and the customer time and money.

Is hyperlocal fulfilment the new 'retail theatre'? It's just one way customer expectation is changing, and one way retailers need to step up...
In the interview, James discussed drive-through stores and other new retailer models that we've seen land during lockdown. Check out the full video for more...
In the full interview...
Examples of innovative new retailer models and partnerships.
How the concept of 'experiential retail' will need to change, alongside customer expectations.
The customer shopping habits that retailers are watching closely.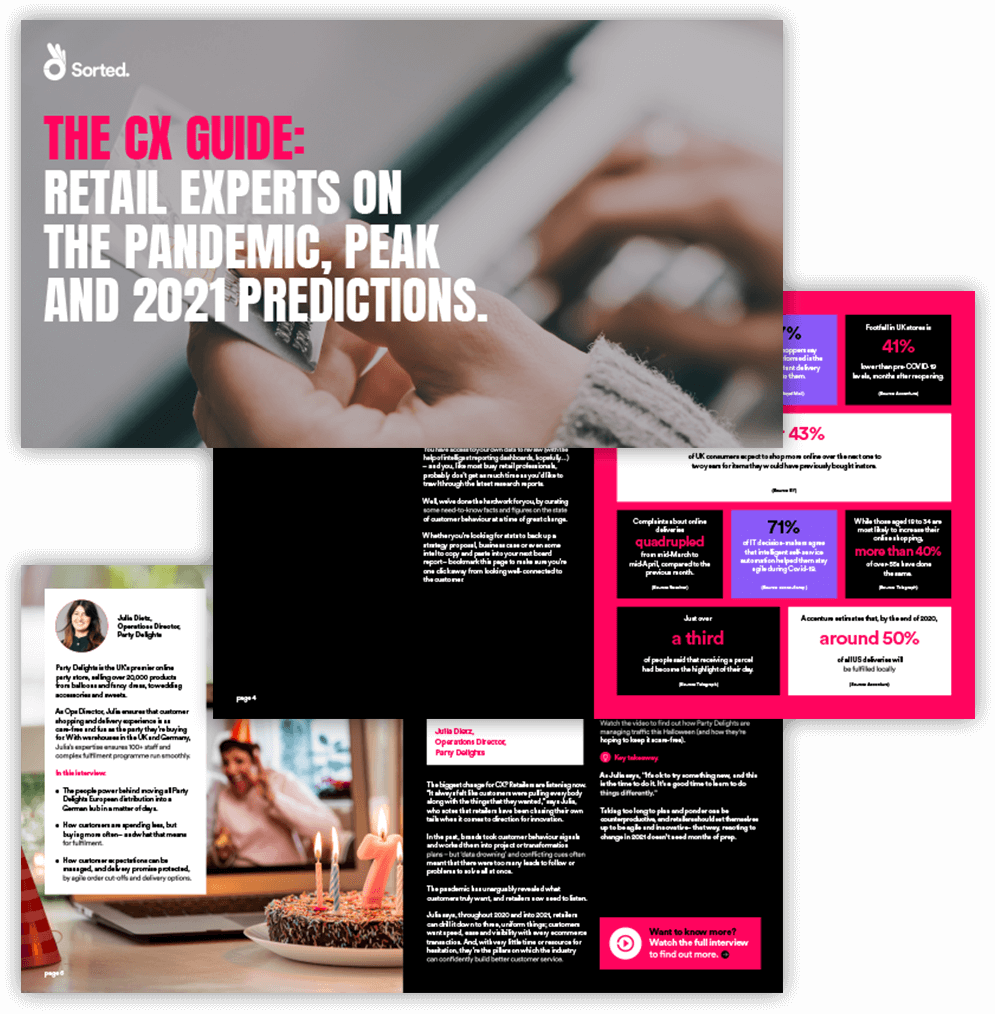 Get the full interview in just two clicks.
The CX Guide:
Retail experts on the pandemic, peak and 2021 predictions.
In the midst of a year like no other, we turned to our expert network and asked them to be open and brutally honest about their reflections and findings on the new meaning of 'customer expectation' and their predictions on what is peaking over the horizon.
Watch the videos, read the research and be better at boosting CX in peak 2020 and beyond...