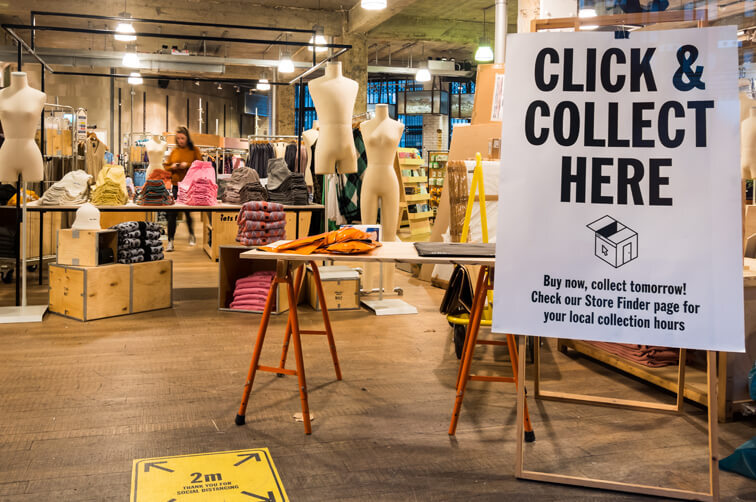 2020 was tough, to say the least. Before the pandemic and Brexit began to take its toll, retail growth had followed a steady, tried-and-tested path. Now, as retailers navigate through the new normal - sticking to a 'one size fits all' plan for retail growth just won't cut it anymore.

As retailers battled it out, many in survival mode, a bunch of new trends came to the fore as brands explored new partnerships, tech innovation and expanding customer demographics. Retailers found more ways of connecting with customers - and these experimental strategies are bound to re-imagine the future retail landscape. Here are just some of tactics that caught my eye in 2020…
Delivery as the saving grace
Since the pandemic hit, 29% of consumers shop more online than ever before. To zigzag the COVID disruption, even more retailers, like Majestic Wine, are turning their empty shops into 'dark stores' to keep up with the growing demand for ecommerce. By transforming neglected shop space into mini distribution centres - these hubs of potential are helping retailers streamline the supply chain, boost efficiencies and utilise stock trapped in stores.
Despite the uphill battle, delivery services have been a huge saving grace in keeping many brands up and running, as the only way to get the products into the customers' hands when retailers had to shut up shop. When the delivery of a parcel became the highlight of the day for many customers, I'm not surprised retailers focused their efforts on post-purchase tracking to make the final mile totally transparent. Royal Mail reported 87% of customers feel that being kept informed is the most important delivery factor to them when making purchases. So, it's a no brainer to give your customers a fully connected experience and keep them sticky.
When physical meets digital
The pandemic has really shaken things up when it comes to customer behaviour, as many consumers ditched the physical world to shop online overnight. And the stats speak for themselves… 40% of customers switched to brands or retailers that best met their needs online according to McKinsey. For sure, in-person interaction has dramatically changed but will this be replaced completely by digital engagement? (...Hmm, fashion advice from a robot - not sure if that's a good or bad thing.)
We saw digital innovation take over. Video chat skyrocketed for one - and retailers took this bull by the horns. Currys PC World launched its 'ShopLive' service to provide a personalised customer service outlet through video chat for customers safely at home. AI and AR have become a driving force for CX, helping brands take the physical in-store experience online. And, other retailers have jumped on the bandwagon too, now MAC Cosmetics' consumers can try its products virtually through its YouTube channel, and Nike uses AR tools to help online customers find their perfect, Cinderella fit.
As we start to head back to normality, the future will no longer be about the physical vs. online world. Rather, creating 'just the right' recipe to blend the two will be what customers want.
A brighter future
If retailers have learnt anything from the pandemic, it's to be bold and brave - and this could see you reap back the rewards.
Of course, a robust growth strategy will look different for every retailer, sector, and business model - but the success of the 2020 retail winners boils down to thinking outside the box and investing in new channels to be wherever the customer is. So, as we hope for a better year in 2021, retailers need to strive to stay ahead of the innovation curve - and most importantly, deliver connected experiences for customers.