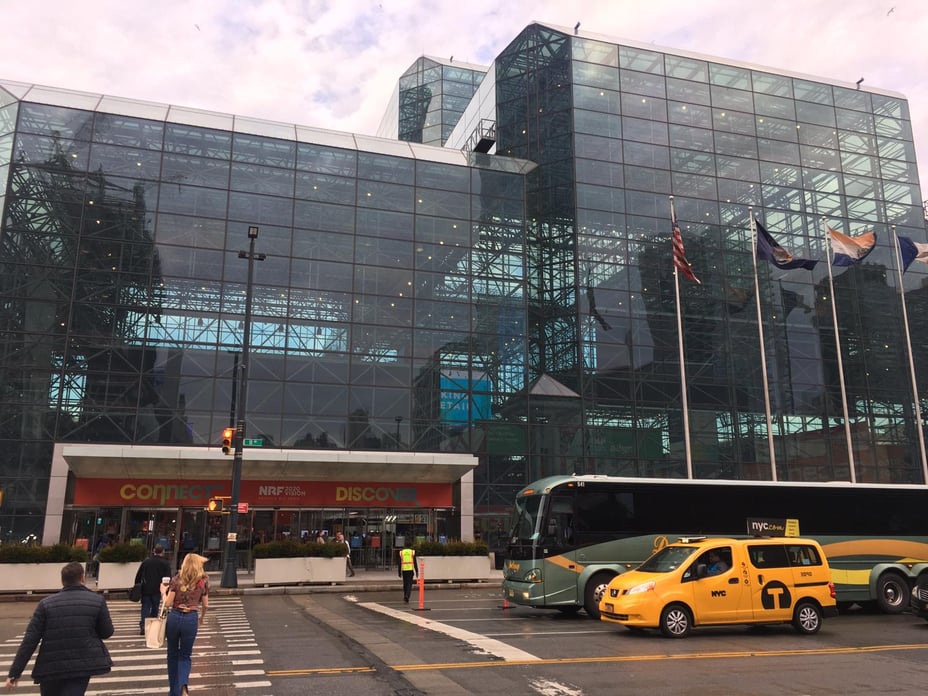 We all know that NRF is the showstopper, when it comes to retail events – from size and scale to the content itself. For me, it's less about the exhibitors and talks (although they're second to none, obviously) and it's more about 30,000+ retail-obsessed professionals getting together to nerd-out for four days. It's such a buzz. Being surrounded by so many passionate people is a real privilege, and there's nowhere more suited for celebrating retail than New York City itself.
The tech on show this year was mind-blowing (I actually saw mashed potato being 3D printed; probably intended for higher-end, experiential restaurants but I wonder when we'll see it hit the local Toby Carvery). Everyone looks to events like this for future-gazing, and they're never disappointed. Predictions for consumer behaviour and retail tech look three, five, ten or twenty years into the future. Which is amazingly inspiring.
That said, the things I took away from #NRF2020 were actually a little bit more 'today' than 'tomorrow'.
So, rather than a wrap-up of huge announcements and horizon-gazing, I thought I'd put together a quick list of five aspirational retailers that aren't just talking about innovation, but are really doing it; and they're not waiting until tomorrow to start.
1. Poshmark for the power of community.
As the largest social marketplace for fashion, I was really impressed to learn about the way Poshmark have harnessed an audience centred around social gratification, fashion sustainability and bargain-hunting. "Posh Parties" are virtual events that connect shoppers with strangers whose style they admire, which is a unique way of reworking the existing marketplace model. Not only that, but they're nailing their 'PoshPost' scheme, which removes delivery as a purchase blocker. They provide pre-paid, pre-addressed labels – meaning sellers simply drop off the parcel at a post box or have it collected from home. Complete delivery convenience, styled entirely around customer demand.
2. Nordstrom. For everything.
I think everyone I spoke to mentioned Nordstrom at some point. They're just doing some really good stuff. One thing that I found interesting was their garment alterations offering; in a bid to personalise service and minimise returns (along with giving their apparel a longer life – sustainability win). That's an in-store initiative, of course, but the company is making waves in omnichannel experiential.
Although everyone is talking about their tech, we heard from Erik Nordstrom himself too. Despite a lot of their innovation happening directly offline, he said, "Every retailer has to be a technology company" – and, while I don't totally agree, the mantra is obviously working for Nordstrom so far.
3. Rent the runway for logistics operations.
Subscription services, be in awe. Rent the Runway are so pioneering with their reverse logistics, that they're able to turnaround returns in just one day. Not only that, but their approach to customer communication means that they aim for as much transparency as possible when it comes to delivery delays. The biggest takeaway for me, in relation to their model, is that they recognised friction in their customer delivery experience and put measures in place to fix it. At their NRF talk, they were open in saying that being an innovator means things aren't always perfect – but things aren't perfect at old-school retailer behemoths either.
It's down to the operational efficiency and constant customer feedback loops that make them so able to serve the customer quickly - with no legacy tech to drag along or hold them back.
4. Showfields. Obviously. And Camp. And Neighbourhood Goods. For being destinations.
Is it really a retail blog if it doesn't mention experiential bricks and mortar? Discovery and opportunity for online-exclusive brands has transformed and no-one exemplifies that more than Showfields. It's an uber-cool showcase to completely obliterate the boundaries between online and offline analytics, product experimentation, brand advocacy and even fulfilment.
Recognising that retail needs more flexible, modular space, their department store is a market hall with art installations, that also acts as a community hub. Imagine doing Saturday yoga in Asda or meeting for Friday drinks in Specsavers. Sort of like that. Kinda.
Honourable mention to Camp and Neighbourhood Goods too, who aren't aiming towards 'proper experiential'. They're completely, totally, 100% there already.

5. IKEA for the end-to-end.
They're the biggest global name in my list, but still a retailer who stood out as making waves at NRF for the changes they're adopting right now. We're all aware of the cool stuff IKEA do with customer-facing technology (instore and online, especially with product discovery and decision), but I was less aware of the behind the scenes magic. Did you know that it took just 6 months from signing contracts to putting their revamped returns programme live? A huge feat for the world's largest furniture retailer.
We often see news about retailers launching new programmes, and most brands will eagerly monitor direct competitors, but it's rare we sit back and assess the wider landscape as it stands. There are some big names doing big things, and littler names doing even bigger.
Of course, one eye on the distant future is crucial – or how else would we know where we're heading? But #NRF2020 proved it's equally as important to look at the right now, and not be intimidated by the prospect of change.
From checkout, to fulfilment, to post-purchase; there's no point waiting for the future. It's already here.