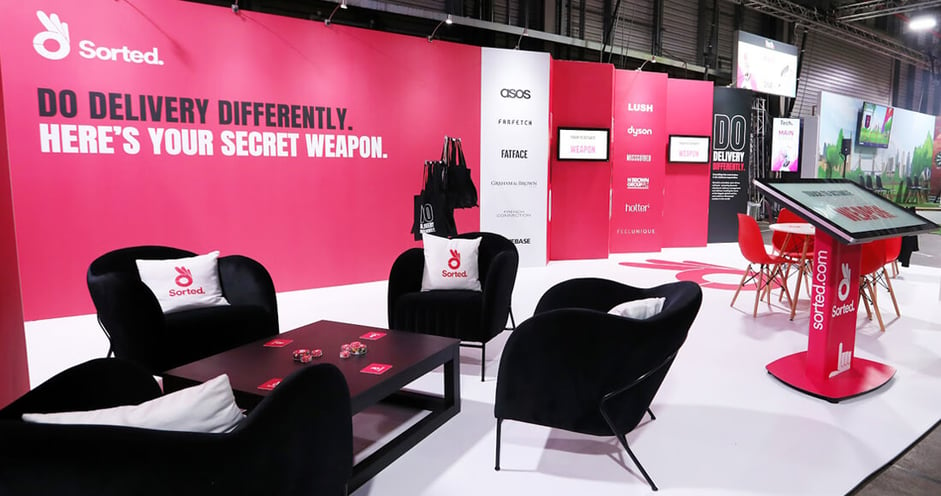 Pictures credit: Retail Week.
We're still buzzing after a sensational couple of days at Retail Week Tech. 2019.
And as you may know, this ain't our first rodeo. So this year, the Sorted stand was bigger, better and busier than ever. We had so many interesting conversations and had the opportunity to show our slick new demo of Sorted's unrivalled delivery tech to a huge range of delegates.

In true Sorted style, we covered the event space in pink – all the way down to our socks, watches and pin badges. But that's enough about how gorgeous we looked. The interesting conversations we had throughout, as well as the underlying theme of many talks, showed that it's currently a scary time for retailers. With all this in mind, it's definitely going to take more than our own thoughts to summarise the whole event – so here are just some of our highlights of Tech. 2019.
Pint for your thoughts?
It's no secret that we love a cold one here at Sorted HQ. Which must be why we were so drawn to the Thirsty Thoughts mind-controlled beer robot, aptly named Homer, over at the Rackspace Rack and Crown pub garden. Our team took it in turns to sport the magical pint-pouring headband (available at all good Claire's Accessories, we're told) and, using every inch of concentration we had, attempted to pour a perfect pint… with our minds. We had a good laugh trying, but we definitely won't be trying our hand at bartending any time soon.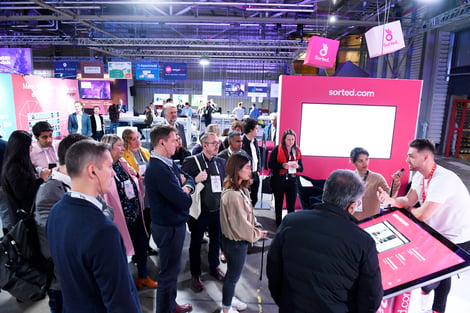 Tech talent galore.
One of the most exciting new spots at this year's event was the Tech. Campus. It was a great place for university students to hang out and talk to the event's retail partners that place the sector as a stimulating place to build a career. It gave us a glimpse into how exciting the future of the industry is, given the level of passion and talent from up and coming, next-gen techies.
Our Developer Team Lead, Martin, spoke to some brilliant young minds – and hopefully managed to inspire the future tech talent of the industry with our awesome platform and company culture that we're so proud of. (If that wasn't enough to do the trick, we're sure they would have been tempted by our famous Cheesy Tuesdays and Beer Fridge Fridays too.)
Sure, we can walk the walk.
But can we talk the talk? Absolutely.
Our very own Sales Director, Andy Hill, took to the Retail Re-engineered stage for two fireside chats during the event. On day one, Andy was joined by one of our awesome clients, Farfetch, to discuss their ship from store model – and how we've helped them to keep up when it comes to serving customers from 2,500 boutiques worldwide. The stage space was absolutely packed - with Andy and Tatiana, Head of supply chain at Farfetch, giving everyone a real insight into the future of the store and the future of fulfilment. Read the full wrap-up here.
On day two, Andy was joined by our friend Paul Eastman, IT Director at A. S. Watson Group. They had a good dig into the hot topic of digital transformation – and whether it actually exists. Could it be the biggest scam to hit our industry in a generation? Well, there was standing room only for those who wanted to find out. Don't worry, you can find out too by catching the write up here.
Awe-inspiring talks.
But we weren't just there for fun and games – the team really learnt a lot from this year's Tech.. Aside from our own talks, we were totally inspired by the secret speaker on day one – and maybe shed a tear or two – as we learnt about Code 4000, who are helping break the cycle of crime by teaching prisoners coding. There was also a great deal of talk about partnerships – right up our alley, as you can probably tell… However, L'Oreal took the conversation up a notch as they discussed exactly how partnerships and strategic alliances are propelling the industry into the future. We found out how a few of the startups they've invested in are helping retailers to create something better for their customers. It's something that still rings true – partnerships are about allowing the retailer to focus on retailing and letting the third party be the tech experts on complex areas.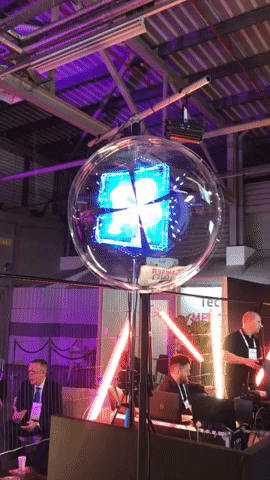 Back to the future style installations.
How could we not mention the spectacular futuristic orbs spread across Tech.? Our team were completely mesmerised by HYPERVSN's 3D holographic system, displaying visuals that appeared to be floating inside giant domes. We can really see how these are upping the game when it comes to 3D digital advertising for retailers. A really innovative way to bring Tech. and the event's branding to life – so much so, we couldn't stop watching them. How do we get one for the office?
Keep your eyes on the pies.
We enjoyed a few different tasty treats at Tech this year, including mouthwatering brownies and cupcakes from Lola's Cupcakes and fresh popcorn for breakfast. But the icing on the cake (or maybe, the gravy on the mash) had to be My Pie London, for their fantastic pie and mash van. It gave our lunchtime a little taste of home while we were soaking up the southern sun – at our Sorted branded tables. It may seem like a small one, but you know how us northerners feel about gravy.
In summary, we had a blast at Retail Week tech 2019. There's just something special about the effort that goes into this event, that makes it so different to your average conference. There's so much to see and do, as well as an abundance of knowledge and valuable, industry info to take in. We listened a lot, we learnt a lot and we got to show off our unrivalled platform – a lot. See you next year.