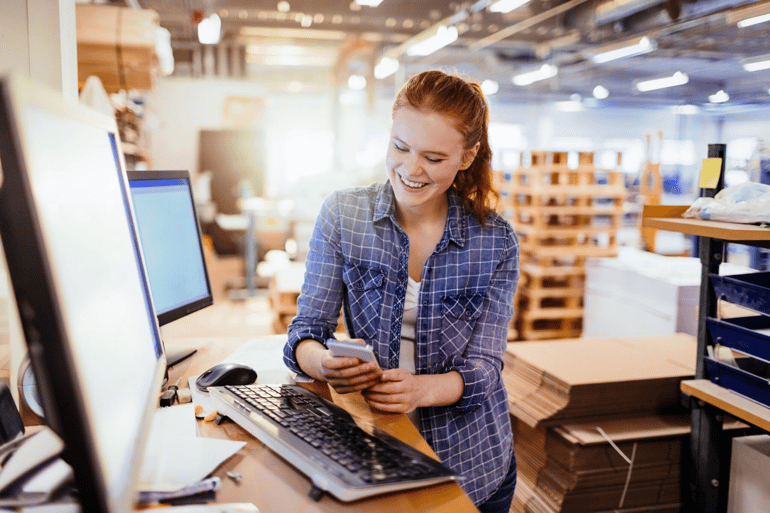 Ah, the festive season.
For consumers, peak season is a sudden, hectic whirlwind of gift-choosing and frantic delivery coordination. As retailers, however, no doubt you plan for it all year round.
Despite being lucrative, peak season is probably the toughest time in retail. Consumers aren't particularly organised (will Granny Helen be happy with more slippers this year?). Expectations are high and the volume of last-minute deliveries is even higher.
So, as retailers, you need to be incredibly agile, communicative and responsive when it comes to peak season checkout, delivery and returns. We want to help you get prepared for next year. So, to ease the burden on your online platforms and warehouse processes, we've assessed which technologies retailers are turning to this year to alleviate the pressure.
No need to thank us. It's Christmas after all.
Chatbots
When there's more shopping, there are more questions.
Consumers love to check the details of what they're ordering before they hit the buy button. Take the pressure off manual customer service teams during peak season by implementing an intelligent chatbot system that can handle the flow of repetitive questions and common queries.
Better yet, with machine learning, the more questions the bots answer, the better the answers become. Win, win.
Geo-location
With current mobile tech, consumers expect their apps to know where they are, and what products and services are closest to them at any given time (hello Uber).
When it gets closer to Christmas, your customer might want to know exactly where a particular product is in stock within a 2 mile radius, for example. Or return something locally in January, when gift-giving goes awry.
Hyper-local, geolocation technology is gradually being rolled out in retail to meet these demands. Don't worry, it needn't be complicated. With the pick up options within the SortedHERO service, you can choose to bolt on geolocation services. Just pass the location data to us at Sorted and we'll share collection, pick up or drop off options with you. Clever stuff.
AI-powered delivery tracking software
Did you know that the average cost of a 'where is my order' (or WISMO) call is £2.50?
Now, just imagine all those panicked consumers calling to check that Granny Helen's Christmas slippers will still arrive in time. Yep, WISMO is an expensive business.
With the right software, however, forward-thinking retailers are reducing the number of peak time incoming calls by proactively updating customers in real-time. With AI-powered technology like SortedREACT, retailers can ensure their customers feel in the loop, whilst potentially saving thousands in WISMO calls at the same time.
"Delivery tracking software gives retailers crucial delivery information as soon as the carrier knows there's a problem or change in circumstances. The result? Expectations are managed and costly incoming calls are avoided."
Michael Rose, Head of Technical Architecture
Checkout personalisation plug-ins
We all lead incredibly busy lives. Even more so when we're running around trying to get Christmas sorted.
Consumers want more checkout options and delivery flexibility to choose where and when an item will arrive. And it might not be their home, either. With a checkout plugin like SortedHERO (yep, we can help here too) retailers can personalise and optimise their final delivery options, making use of a wider range of carrier services without the tricky platform integration.
That's one more thing ticked off the wish list.
"Fastest isn't always best. Increasingly, consumers want to choose precisely when something will be delivered. And that might be next week, not tomorrow. If your delivery options aren't flexible or varied enough, you may find that customer heading elsewhere for their Christmas shopping."
Michael Rose, Head of Technical Architecture
Microservices
Abandoned carts, failed orders, angry customers - it's the stuff of nightmares for retailers. Particularly when sales should be at their highest.
That's why we're fans of microservices at Sorted. And during peak season, it really comes into its own - allowing retailers to automatically scale their systems up and down according to demand.
So, why not upgrade your delivery management platform to something smart like SortedPRO that can handle these peak surges with ease? That way, not only do you have a one-stop-shop dashboard for all your carrier operations, your services are agile and scalable for peak too.
"Retailers don't want to prescale their infrastructure just to prepare for peak. The unlimited scale of microservices means that, when volume and visits ramp up, platforms can respond automatically."
Michael Rose, Head of Technical Architecture
With microservices, your retail operations are far more cost-effective. That means you can pass on your savings through unbeatable product prices, as well as cope better with high demand.
So, if you're not already, follow in the footsteps of the tech-savvy retailers next peak season. You'll reduce your costs, streamline your operations and handle surge activity with ease. All in time for Christmas.
Read more about how to optimise the delivery experience in our guide Ecommerce Examined: Assessing the delivery experience.